Bob Wells - Mountainlands Community Housing Trust Scholarship
Mountainlands Community Housing Trust began with the vision of growing a vibrant community where housing prices alone would not determine who lived here. Founder Bob Wells was one early leader who understood that teachers, police, restaurant and retail staff, government employees, and hospitality workers need the opportunity to live and work in the same county.
Mountainlands chose to honor the passing of Bob Wells in 2015 with an annual scholarship that would celebrate the spirit of his vision of Park City as an inclusionary community, and expand its future through the next generation. Because of affordable housing, the Park City School District has a richer student body of different socio-economic backgrounds, nationalities, races, and perspectives.
Scholarships for students living in affordable housing in the Park City School District.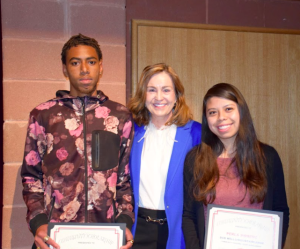 The Bob Wells Scholarship builds on the vision of an inclusionary community by supporting the dreams of students pursuing higher education, and removing part of the financial roadblock that might prevent them from starting college or trade school. Applicants are judged on their community involvement, academics and teacher recommendations, as well as living in an affordable home. To apply, PCHS seniors may inquire with their school counselor.
Since 2015, Mountainlands has distributed scholarships each year to graduating Park City seniors. The scholarships have an enormous impact on the lives and educations of the receiving students. Bob's wife Patti Wells and their children, Amy, Rob and Kelly, present the award each year.
2022 Scholarship Recipients
Adriana Cornejo Morelos
Juliet Nava Pena

2021 Scholarship Recipients
Nanci Delacruz
Graylin Leonardo

2020 Scholarship Recipients
Edgar Pena
Gracie Burnam

2019 Scholarship Recipients
Perla Moreno
Conway Waisome

2018 Scholarship Recipient
2017 Scholarship Recipients
Isreal Gonzalez Razo
Evelin Itzel Arrieta Carreto
Joana Saucedo
2016 Scholarship Recipients
Pedro Pineda
Ana Ramirez
Reyna Tellez Rea
2015 Scholarship Recipients
Lesly Sarai Muñoz
Ana Karen Reyes